Human Care social responsibility program
Discover how we work with sustainability, outside our own organization's borders, by supporting different charities.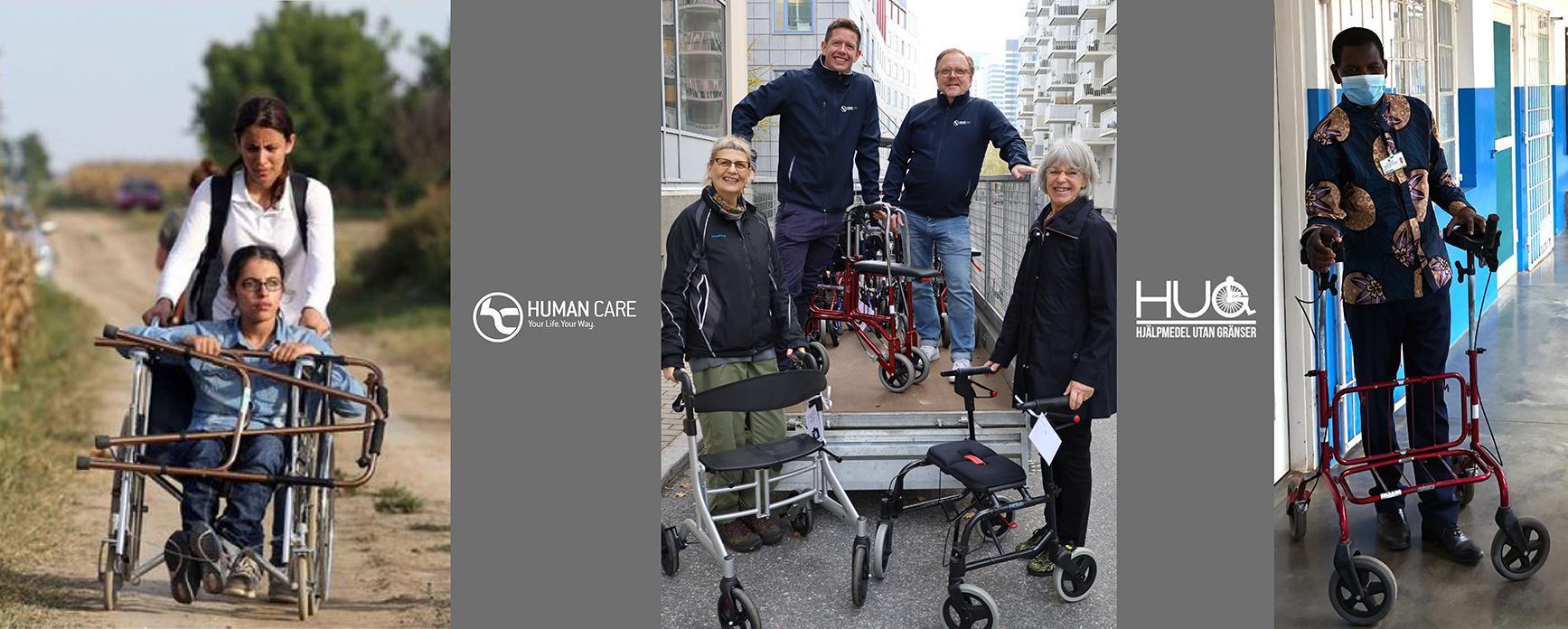 Resources

without Borders – Help to self-help

Human Care Group supports the charity organization Resources without Borders with products, funding for shipment and knowledge sharing.

Resources without Borders is a Swedish organization that delivers donated medical aids and other resources to countries with greater needs. The organization arranges shipment and safe travel of goods, and make sure to deliver them to the right people and institutions, where they also supply knowledge and training in how to use all donated resources.

The latest donation of rollators went to healthcare institutions in Mozambique.

To support them and read more about Resources without Borders, please visit their webpage here.

Hand in

Hand – Fighting poverty with entrepreneurship

Human Care Group supports the charity organization Hand in Hand that focus on finding a sustainable way out of poverty for women and youths. Hand in Hand is active in Afghanistan, Cambodia, India, Kenya, Namibia, Tanzania, and Zimbabwe, with fundraising and program support in Sweden and the United Kingdom.

They nurture the creation of more than 1,000 jobs a day, seven days a week. That's more than 350,000 jobs a year.
Jobs help break the cycle of poverty. They help entrepreneurs create their own success.
When women, who make up more than 90% of Hand in Hand's entrepreneurs, are better educated and make up a greater part of the labour force, a country's GDP is substantially improved.
An average of five family members benefit from every job help our entrepreneurs. That's more children in school, and more parents with the ability to put healthy food on the table and seek healthcare in time.
FOCUSING ON WOMEN AND YOUTH
Women's economic empowerment. The women they work with face many challenges – poverty, lack of education, gender discrimination. By the time they graduate from Hand in Hand's support,  they are stronger and more confident. When they start to earn money, they improve their position and influence in the family and society. Supporting women to come together also gives them a stronger voice and a better chance of claiming their rights.
Empowering youth. In countries where youth unemployment is growing at alarming rates,  and where the consequences of climate change are acutely felt daily, the aim of Hand in Hand's work is simple: To raise the status of self-employment among young people and unlock the path to success through sustainable and resilient entrepreneurship.
As one of the founders, Percy Barnevik, puts it: "Our model, help to self-help, puts people's destinies in their own hands. You train them, you coach them, but they decide for themselves about the future".
For us at Human Care Group this goes very well on how we look at life: Your life. Your Way.
To support them and read more about Hand in Hand, please visit their webpage here.
Suicide

Zero – fighting stigma with knowledge

Suicide Zero is a non-profit organization that has been working since 2013 to radically reduce suicides. Suicide Zero's vision is a society without suicide. The knowledge to achieve the vision exists, but it must become widely known and spread in society to have a greater impact.

There is a lot of taboo, ignorance, fear and stigma around suicide and mental illness. Suicide Zero work to increase the knowledge of politicians, journalists, health and medical staff and the general public. This I done by lobbying, debate articles in media, training and lectures for various professional groups.

Read more (Swedish website – please use the translate function in your web browser)